Both the Western Ghats woods and the gorgeous Karnataka coast are accessible from Mangalore. Beautiful temples, well-known cathedrals, spotless beaches, magnificent waterfalls, and golden sunsets are just a few of the sights in Mangalore. Visitors adore staying in Mangalore beach resort for a few days to unwind and recuperate before venturing out to explore the coastline and the jungle. We've put together a list of the top six resorts in Mangalore so you can start planning and be sure to have a nice trip.
You can choose which of these residences you'll be staying in throughout your vacation to Mangalore in Karnataka by taking a short look.
The River Roost resort is renowned for its idyllic setting, nestled on the bank of a river amidst coconut plantations. This well-kept facility is regarded as one of Mangalore's top beach resorts and is suitable for hosting sizable family gatherings.
Due to Pilikula Lake's close location, it also offers a tonne of options for exciting boat rides. The River Roost Resort in Mangalore is located in a stunning area. It is situated alongside a river in a plantation of areca and coconut trees. One of the top resorts in Mangalore, the well-kept facilities are perfect for large family gatherings. It is possible to enjoy a boat tour on the stunning Tiger Pond or the nearby lake Pelicula. The dining room is the best because it has a view of the river and is ideal for romantic evenings with a special someone.
Deluxe accommodations, breakfast, complimentary parking, room service, volleyball, badminton, animal feeding, and rain dance are available as amenities.
Location: 1-262/2-16, Sabarabail, Mudushedde, Mangalore 575028
Starting price: INR 5,000/-
Google rating: 4/5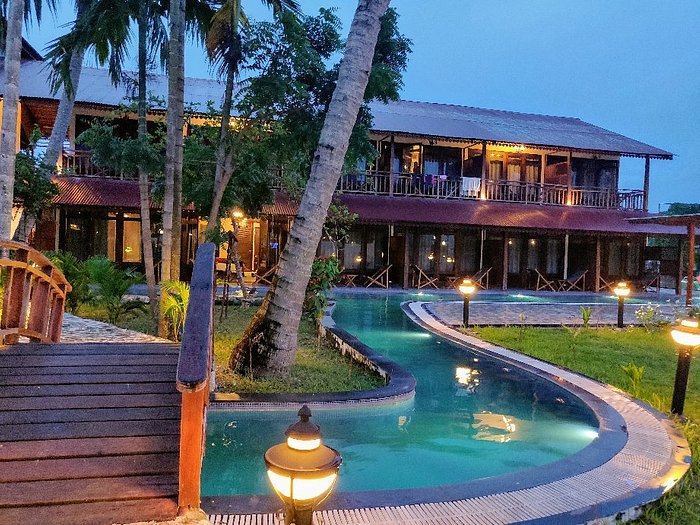 Summer Sands resort, one of the most lavish beach resorts in Mangalore, has villas with well-decorated rooms. The entire property is dispersed across a big area and provides appropriate seclusion for its visitors and guests.
Couples and lovers looking to spend some quality time together will find this Mangalore Beach resort, which is located just a few kilometres from the beach, to be the perfect getaway. Coconut palms dot the Summer Sands Beach resort, which enhances its aesthetic appeal.
Additionally, the resort has a sizable pool, a verdant garden, and a multi-cuisine restaurant that provides mouthwatering cuisine.
Bar, restaurant, television, room service, laundry service, conference room, clubhouse, swimming pool, and water sports are among the amenities and activities offered.
Location: Chota Mangalore, Near Nirmala hospital, Mangalore.
Price: INR 5000 per night.
Google rating: 3.9/5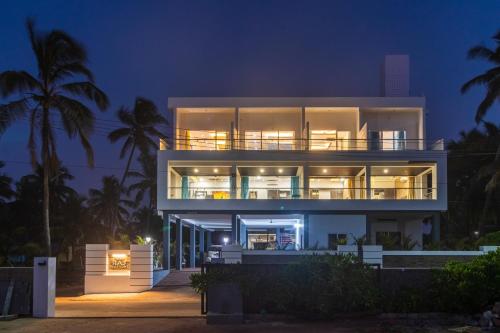 This mansion, a classy residence with all the latest conveniences, is located in Mangalore's seaside region. This is one of the top Mangalore Beach Resorts, each accommodation has a spacious sit-out area from where one can enjoy the fantastic view of the seaside.
Raj Sea Front Beach Resort offers a hassle-free environment to its tourists because it is around a 20-minute drive from the city. This location is ideal for beach lovers who enjoy watching sunsets.
Room service is available around-the-clock, and there is hot water, a television, a washer, free internet, free parking, a kitchen, and a first aid kit.
Location: New Mangalore, Kulai, Mangalore.
Price: INR 5000 per night.
Google rating: 4.3/5
Also check: Explore the Top Resorts in Mangalore for weekend getaways
4. Mangalore Beach Resort
Do you desire to spend this vacation at the appealing seashore? If so, the Mangalore Beach Resort is the ideal location for your getaway. One of the well-known resorts in Mangalore, this resort is nestled on Someshwar Beach and is adjacent to the famous Someshwar temple.
In addition, it is a great place to stay while visiting Bekal Fort and other surrounding sites. This location is heaven for adventure seekers and youngsters with its on-site swimming pool and water sports amenities.
It is regarded as one of the top Mangalore Beach resorts and will fascinate you with its serene ambience and untainted natural vegetation.
Parking, room service, an on-site restaurant, a swimming pool, an airport transfer service, a game room, a barbecue, a campfire by the beach, a picnic area, and a sightseeing facility are available.
Location: Beach Road, Sankolige Uchilla, Someshwar, Mangalore.
Price: INR 3000 per night.
Google rating: 4/5
This Mangalore Beach Resort is managed by Jungle Lodges and is located in a stunning natural setting. Phalguni River Lodge, also known as Gurupura Nisargadhama Resort, is home to more than 27 different types of bamboo, 750 different species of medicinal plants, and 270 different species of trees.
It is certainly a delightful experience to awaken to the sound of birds chirping and the lovely surroundings of the place. The resort's main draw is the Ayurvedic Wellness Center, where visitors can enjoy the experience of real forest therapy.
The fact that Phalguni River Lodge offers a variety of water sports and entertaining activities makes it a well-liked vacation spot for children as well.
Pick-up and drop-off service, homestay accommodations, vehicle rental, city tour, trekking, jungle safari, mountain biking, bird watching, day trip, water rafting, snorkeling, and coracle ride are among the amenities and activities offered.
Location: Nisargadhama, Vamanjoor, Mudushedde, Mangalore.
Price: INR 3500 per night.
Google rating: 4.3/5
Red Rock Residency resort should be your first choice if you're looking for a lovely Mangalore beach resort for a weekend getaway. Red Rock, a well-known resort in Mangalore, has grown significantly in popularity for hosting big social events like weddings.
The entire resort is surrounded by verdant greenery, making monsoon season a great time to visit. One of the most beautiful beaches on the South Coast is not far from Red Rock, and if you enjoy watching the spectacular sunsets, a stay at this resort is all you need.
This resort's delectable cuisine, which will wow your taste buds, is another key highlight.
Provided services and activities include a doctor on call, a rental car, round-the-clock room service, laundry, a travel desk, spacious living rooms, a swimming pool, and nature walks.
Location: Malamar Beach road, Surathkal, Mangalore.
Price: INR 3000 per night.
Google rating: 3.8/5
Also check: Enjoy Delicious Cuisine from 20 Popular Restaurants in Mangalore